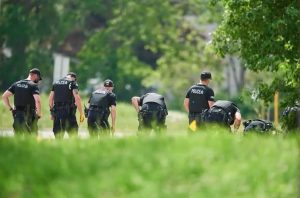 Jun 8, 2021
ICNA joins the rest of world in condemning a terror attack against a Muslim family which left four dead and one in critical condition. The family of five was out on a Sunday evening walk, as a normal family routine, when the driver of a pickup truck intentionally jumped a curb and crashed into them killing four of them.
The perpetrator of this crime is just 20 years old. One must wonder how much Islamophobia, hate and toxic rhetoric he had been exposed to that would encourage him to kill an entire family.
When such incidents happen, we cannot be satisfied with the simple explanation of mental illness or an insincere condemnation.
Condemnation for such crimes is not enough. Muslims cannot and should not be passive in the face of such violence. For too long we have been victims of hate crimes. All that is done in response are condolences and words. Serious steps must be taken to prevent these crimes in the future.
Islamophobia continues to exist in Canada, the USA, Europe, and elsewhere and as we can see, it has deadly consequences. We hold certain politicians, talk-show hosts, and extremists responsible for promoting hate against our communities. For this reason, ICNA calls on lawmakers to pass legislation to treat Islamophobia as a crime in order to stop hatred in its tracks. Hence, anyone found guilty of hate crimes or perpetuating hate in society must be dealt with by full force of the law. People should not be allowed to spread hate under the banner of free speech. Free speech cannot and must not be hate speech!
We pray to Allah 
 that the four members of our family who died will be written among the Shuhadaa (martyrs). We ask Allah 
 to grant the child who is in the ICU complete shifaa (recovery) and to ease his struggles. May Allah 
 grant him a recovery that will heal the pain of the loss of his entire family.
The Islamic Circle of North America is a leading American Muslim organization dedicated to the betterment of society through the application of Islamic values. Since 1968, ICNA has worked to build relations between communities by devoting itself to education, outreach, social services and relief efforts.
—END—
Islamic Circle of North America
E-mail: ICNA PR Email
Office: (718) 658-1199